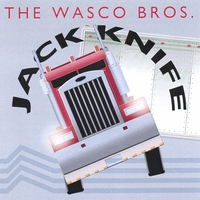 When Junior Brown first appeared on Austin City Limits back in 1995, he probably had no idea that one of the best male country singers to come along since George Jones was sitting right behind him on the stage, playing drums.
I can't really blame Junior for the oversight. I've been guilty of the same thing myself.
Paul deLay and I both had Jeff Minnick in our bands. We'd let him sing one, maybe two songs a night. The dance floor would invariably fill right up, but I guess we thought that was just because the songs had a good groove. (Shows how much we knew.)
I did know Jeff was a good writer. Artists like Gary Primich had recorded his tunes. I even sang one of them myself ("This Place Has Changed") on my last CD,
Serve Me Right to Shuffle
.
Now Minnick has really gone and done it. He's got his own band together, and it's top-notch. The outfit calls itself
The Wasco Brothers
, and they record for Portland's brand-new
PsycheDelta Records
label, where they know what they're doing.
The talent in this band is deep and wide. You can hear a couple of tracks on their
web site
, or you can go
straight to CD Baby
and get a copy. Trust me, you're not going to find this album in the cut-out bins.
By the way, the CD is on
iTunes
as well.
Hardly anyone is writing songs this good, nobody could sing or play them better than these guys do.
I didn't really expect records to ever sound like this again.